This post is part of the blog tour curated by the Association of University Presses in celebration of University Press Week. To see the rest of the posts in the tour, click here.
This year's theme, Next UP, highlights the dedicated work performed by those in the university press community to seek out, engage, advance, and promote the latest scholarship, ideas, best practices, and technology.
Today's post, "Who is #NextUP at your Press?" is a Q&A with Purdue University Press early career staff member Andrea Gapsch.
Q: Tell us a little bit about yourself and your position with Purdue University Press.
My name is Andrea, and I started working at Purdue University Press upon graduating with my BA in English from Ohio University in May of 2021. I work in acquisitions, reporting directly to our director, Justin Race, and my title is currently acquisitions associate. I handle our Holocaust and genocide studies and dementia and gerontology lists.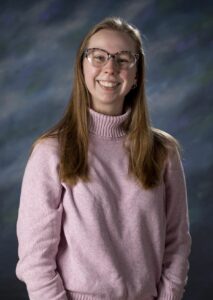 Q: How did you first become interested in academic publishing? What steps did you take to begin your career/your current position?
While I was working on my degree at Ohio University, I interned in the acquisitions department at Ohio University Press for three years. I learned about the role at Ohio University by being very open about my interest in working in publishing, I told every mentor and faculty member I could find that I wanted to pursue a career in book publishing, which led to some amazing opportunities.
As an intern my regular duties included putting together board packets, handling peer review paperwork, and checking images for resolution and permissions for transmittal. I also had a few special projects including scanning every contract on file (which ended up having perfect timing for remote work in 2020) and reviewing permissions for an NEH grant.
Q: Is there any advice you'd like to give someone hoping to begin a career in scholarly publishing?
One of my favorite aspects of working in scholarly publishing is the kind and intelligent individuals with whom I get to form working relationships. I'd encourage anyone to ask as many questions as they can while they are working on their career. Whether that be asking about the life cycle of a book as intern at a press or talking to a thesis advisor or another university mentor about the career paths one can take in university publishing, it is all valuable advice.
Q: Tell us about a new first (project, accomplishment, etc.) from this year.
I was very excited to attend my first AUPresses conference this year in DC. It was wonderful to see colleagues from other presses in the flesh and to begin networking. I found the panel on equity in the peer review process to be particularly insightful.
Q: What's a new first you'd like to accomplish in the next year?
I am looking forward to acquiring my first book and seeing it through to publication!
Q: Is there a book you're currently reading or would like to read?
I just finished True Biz, a novel by Sara Nović, for my book club. It was fantastic!
Q: Is there a book in our backlist you'd like to recommend?
Diary of an Alzheimer's Caregiver is a recent release I'd highly recommend; the memoir is very moving.
---
Purdue University Press is the scholarly publishing arm of the University located in West Lafayette, Indiana. Dedicated to the dissemination of quality, peer-reviewed scholarly work, Purdue University Press selects, develops, and publishes valuable resources that add to our understanding of the world. The Press publishes twenty-five books a year and sixteen journals from authors all over the world, in addition to many projects by Purdue community members through its Scholarly Publishing Services division. Learn more and take advantage of special discounts when purchasing books directly at www.press.purdue.edu.